Training Plan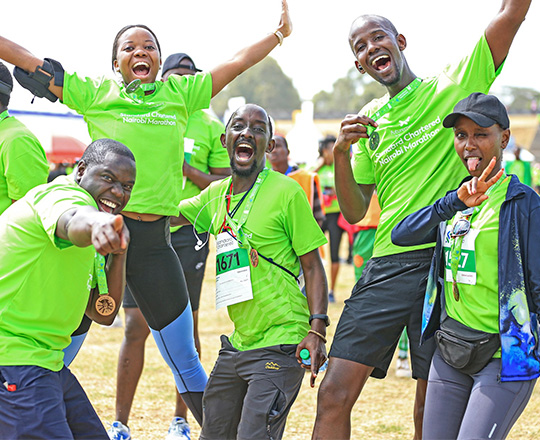 This is a structured training plan that will help you train progressively to build your fitness with the goal of racing, finishing and achieving a best time at  Standard Chartered Nairobi Marathon /Half marathon to be held on October 29th
This is a group virtual training plan "you run where you are". Coach monitoring done on Strava running app
A combination of endurance, stamina, strength and speed workouts all geared towards ensuring you run to your potential on race day.
Five running days a week for full marathon training and 4 running days a week for half marathon training with one optional running day.
Three days a week for strength training and prehab routines
Group support on the Whats App group
Personalized race day pacing strategy.
Race day hydration and fueling plan
Weekly coach's notes on training topics shared on email.
About Coach Dedan
Coach Dedan is an RRCA Level 1 running coach, ACE certified personal trainer, passionate about running and helping recreational runners achieve their running and fitness goals. He believes in developing wholesome runners who are fit, strong, and healthy.
Coach Dedan is also a recreational runner with a decade of running experience, he participated in his first marathon Stanchart Nairobi marathon in 2017 finishing at a time of 3:58:54. With consistency in training and trusting the process across the years he recently became a sub-3 marathon finisher at the Chicago Marathon 2022 finishing at a time of 2:58:33. Oher major marathons he has participated in are Kilimanjaro Marathon, Kigali marathon and Sanlam Cape Town marathon
Coach Dedan has coached and helped many recreational runners achieve their personal best times and become better runners.